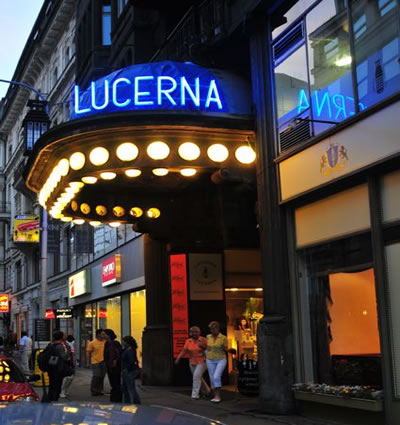 In July of 1998 Phish traveled to Europe, they stopped at a small place called The Lucerna Theater for two nights. Kuroda had to use an old school lighting setup of strictly can lights for it–making people forget that they are a band that usually plays in arenas and outdoor amphitheaters with one of the most impressive lighting shows in entertainment. The venue is extremely small, only holding approximately 500 people, makes it one of Phish's most intimate and cozy venues played ever.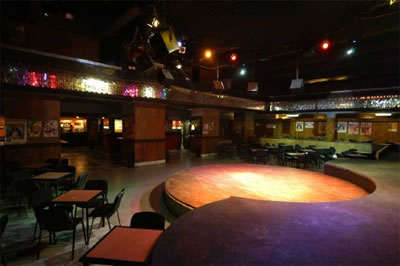 Phish takes full advantage of playing the tiny venue–knowing that fans on the other side of the pond were dying to be there, Phish did what was expected and made them sorry they didn't make the trip. As you can see from the picture to the right, the place looks just like a dining hall–the circular part of the stage was removed for when Phish performed. Knowing the recording of these shows were fan favorites, especially the second night, Phish released it as a Live Phish album.


The show starts out with one of the coolest strings of songs they ever performed–Buried Alive>AC/DC Bag->Ghost->Cities. The Buried Alive is lively and ferocious. The AC/DC Bag's jam quickly sinks into thick funk laced with digital delay loops–Mike noticeably starts with the loosened Ghost bass lines relatively quickly out of the gates, allowing Phish to jam on a Ghost-based theme for a while before actually reaching the beginning of the song. This version of Ghost, one of their most popular YouTube videos, is arguably one of the best versions they have ever played. Listening to the recording certainly reflects how amazing the blistering improvisation was, but seeing it on the video (thank you to whoever video taped this) really shows you the energy of the band and the room. With the low hung and low tech can lights hanging above the band's heads on a small stage with the crowd only inches from the instruments, Trey's goes into full rockstar mode–as if he is at a packed Soldier Field with pyrotechnics behind him. Trey takes this jam and turns it inside out with his guitar effects and straightforward, blistering chops–listening closely to Fishman for cues on when to take it up to the next level. Trey, with his lush and longer hair bobs and headbangs for portions of it, sometimes with his tongue hanging out. He is jumping and kicking his knees up when his feet are not firmly planted on stage in a wider-than-normal stance to brace himself from not being toppled over by his swaying body. As the jam finally winds down, Trey cues the band to make a HUGE start/stop right before segueing into a fast-paced Cities–then, right before Cities' first refrian, the drums slow everything down to the correct speed while the Mike throws down a tasty lick, making the tiny crowd erupt louder than MSG. The Cities is spacey and funky. If you have not seen this video, watch it now–it will be one of your favorite videos for life…



During Maze towards the end of the set, Trey halted the intense jam to thank the crowd–totally unexpected and impressive in my opinion.


Like the first set, the second set is also front-heavy–opening with Julius>Meat>Piper->Makisupa Policeman. The Julius is intense and hits high peaks, after which they use Meat to slow things down and gather their bearings. Then comes Piper–a 20 minute Piper–1998 is when Phish first really started experimenting with the song. Once Phish dropped the song's outro segment, they realized how much improvisational potential the song really had once it was open ended. This is a great example of them going "wow, look at how far we can take this!" All I can really say about the song is that Trey plays an insane amount of notes and it is absolutely blistering. One of the hottest versions ever.


The Makisupa Policeman was original and humorous, with some banter and add-libs. The show encored with Possum; it was particularly fun with Trey going into a sort of guitar refrain throughout the jam–it also included a well placed Stash tease.


Get this show, watch the video!




–This is an audience recording, the Live Phish soundboard copy should be easy to find.–


>>>DOWNLOAD LINK



Notes:
The Maze jam was halted while Trey humorously thanked the crowd. The last line in Makisupa changed to "came to Vermont." Trey called Page "Petroff" before he took a piano solo. Trey let Fishman take a drum solo, but told the crowd to whistle if he (Fish) went on too long. Trey added that they had a "band rule" that they all begin whistling if Fishman, who likes to ramble when he talks, ever talks for longer than two minutes. Fish took a boring "drum solo," which drew whistles from the crowd. Possum contained a Stash tease from Trey.