Cinnamon Girl – Neil Young: This song has only been played twice, both in 1997–once at the Flynn Theater in Burlington and once later that summer at Shoreline Amp. Although Phish's version lacks the vocal grit that Neil can put behind it, they make up for it with Trey's beautiful guitar work in the solo. I think the Flynn's version was musically stronger than Shorline's encore version. The song would be a great encore song, as long as it wasn't overused, or a mid-first set bridge from one song to another.


Amoreena – Elton John: Only played once before, to open up Star Lake 1997 (which is one of my favorite all-time shows, click link to read), is a wonderful summertime ballad. Judging from the only time they covered it, Page did a decent job covering the vocals, with the piano, guitar and drums providing a great backing for him. I think it's one of the best covers they ever played.
"Amoreena's in the cornfield brightening the daybreak…" Perfect for Deer Creek, right?



Born Under Punches – Talking Heads: I know this song has never been played outside of Halloween 1996, however, I think this song has great Phish potential. I could see it being a creepy and/or funky second set abyss.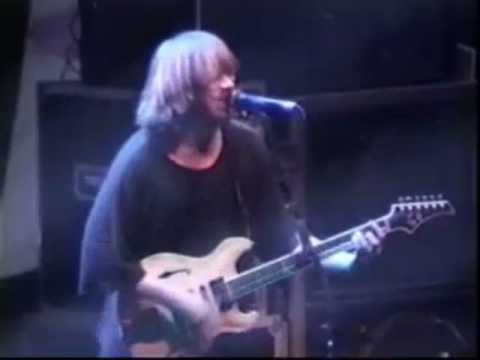 Cry Baby Cry – The Beatles: Another Halloween song, Phish debuted this in 1994 while covering the Beatles' White Album. However, unlike Born Under Punches, this song was played 3 times since, the last being at Hampton in 1998. A beautiful song–could be a great encore or a second set breather.


Freebird (with instruments) – Lynyrd Skynyrd: Only played once, on 6/22/2000, with instruments, this version featured the Del McCoury Band and Wynonna Judd on vocals (and a shirtless fan dancing). This intense rock & roll anthem would be a great encore. I understand that the song is probably better suited for two guitars, but I'm sure Trey wouldn't mind working overtime to compensate. If Phish wanted to really get crazy, they could even take it past the loosely composed instrumental ending for some improvisation.


Sea and Sand – The Who: Covered originally during Halloween 1995 in Chicago, Phish played this piano ballad only twice since– NYE 1995 and Ventura County in 1998. Page does a great job on piano and vocals–love the lyrics. It was played on a whim in 1998–they were right on the beach and thought the song would be fitting. A great slow song that I think they should bring back.


Cool it Down – Velvet Underground: From Halloween 1998, this cover has popped it's catchy head up three times since. The last time it was played was after the popular Seven Below>Ghost from Albany last year–excellent placement. It was unexpected and executed well. I had forgotten about the song until that show. I would love to see them make a theme out of playing this song after huge rage-fest jams (not that I consider that Seven Below>Ghost a "rage-fest).


Life on Mars? – David Bowie: Debuting in Texas during the 1995 fall tour, this awesome and one of a kind song immediately found it's way into Phish's rotation–it was played 18 times between 1995 and 1996, then it was only played once in 1997 and once in 2003. Phish dropped it like a bad habit after '96–I, along with many other fans, think this is a mistake. Maybe they have proof there is, in fact, no life on Mars.



Quinn the Eskimo – Bob Dylan: Only played 4 times since 1987, this semi-sing along song puts everyone in a good mood. Great encore or first set closer. It's certainly a favorite cover song by a lot of American bands, but Phish can afford to be cliché every now and then.



Psycho Killer – Talking Heads: (not counting the Psycho Killer quote/tease at the Hilton Ballroom in Oregon, 1993 during the Weekapaug Groove) Debuting on 12/7/1997 in Dayton, Ohio–a fan favorite show– in the legendary AC/DC Bag -> Psycho Killer ->Jesus Just Left Chicago and then out of Ghost last summer in Hartford is a song that I actually don't think should be on this list. The song has been begged for for years, even before Dayton but especially after, and Phish should keep people chasing it. The version last year, while not executed as well as Dayton's version, was cool because they literally played it spur of the moment. People were singing along to the pre-show (or setbreak) music when the song came on–Phish heard them and played it. During Down with Disease at Alpine Valley in 2003, no matter what people say, there is definitely a Psycho Killer jam in the twenty-some minute Down with Disease. I remember thinking they were going to go into it when I was there, I listened to it just recently to be sure and it's totally there. Phish will play it again–they are just going to make you wait, and it's only going to be out of a real cool jam.






Watch for Sloth Blog's list of songs Phish should cover in the next few days.